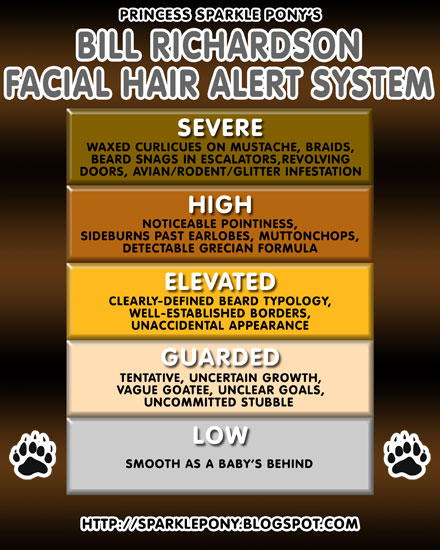 It's a little sad to introduce the Bill Richardson Facial Hair Alert System with the current state at the lowest, most disappointing level, but Papa Bear's elevation to Obama cabinet demigod kinda forced my hand.
This valuable public service (if I don't say so myself) will accompany, not replace, the Condoleezza Hairdo Alert System in the right-hand margin of the site. I have high hopes for the BRFHAS! Don't let us down, Papa Bear!
And if you really, really want to impress your friends and show them that, like Fox News reporters, you are determined to stay informed on the political topics which really matter, you'll want to head to the
Richardson Alert Cafe Press shop
to purchase BRFHAS t-shirts and coffee mugs. Because, you know, why not?
So, you know, to clarify: I
will
keep track of Bill Richardson's facial hair so you don't have to, and I will
still
do the same for Condi's hairdo.