U.S. Secretary of State Condoleezza Rice holds a press conference Friday Dec. 5, 2008 in Copenhagen, Denmark. (AP Photo/Jens Dige, POLFOTO)
So, yeah, Condi's was in India for about two seconds, pretending to help with whatever it is they need help with over there. Everybody loves it when Dr. Ferragamo lends a hand! Remember a couple of weeks ago how she was "helping" with the financial crisis? And look how awesome that turned out! Onward to new triumphs, girl! Or, in this case, Denmark.
But you all know I love the photo because it's such a good example of a wire snapper getting bored and then deciding to be arty. I always totally heart that. Or maybe he's shy? It's hard to tell, but in this one he seems to be practically cowering behind the other photographers to get his picture: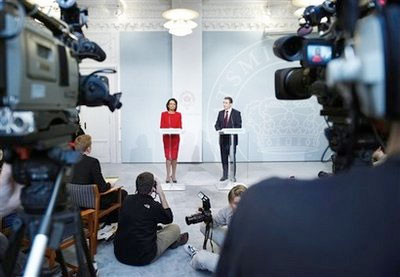 That's the Danish PM, Anders Fogh Rasmussen, and the two of them did one of those classic "dueling podiums" pressers. Here's Condi expressing regret:
Well, thank you very much, Prime Minister, and let me first express the deep regret of the United States for the loss of life yesterday of the two Danish soldiers. I had an opportunity last night to say that the United States, of course, extends condolences to the families and to friends and to the Danish people.

No loss can ever be repaid. No life can ever be brought back. Yet we all know that nothing of value is ever won without sacrifice. And therefore, these people have not died in vain, but in the noble cause of trying to help the Afghan people to fight off terrorism, to build a decent life for themselves a democratic way, and in doing so, to strengthen the security for all of us. As you said, Afghanistan must never be allowed again to become a safe haven for terrorism. And that is the fight in which we are engaged.
Blah, blah, blah. Sound familiar? It's Condi's grief phrase:
these people have not died in vain
. Where have we
heard that before
?