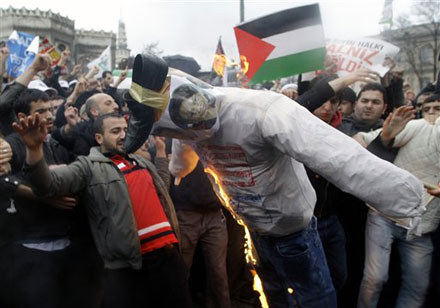 Turks set an effigy of U.S. Secretary of State Condoleezza Rice on fire, with a shoe fixed to her head, as they shout slogans during protest against Israel's attacks against the Gaza Strip, in Istanbul, Turkey, Sunday, Dec. 28, 2008. Several thousands of protesters carrying Palestinian flags chanted anti-Israel and anti-U.S. slogans and called for an end of Israel's attacks against Gaza. (AP Photo/Ibrahim Usta)
I knew it was only a matter of time, but it doesn't make it any less thrilling!
And again the Middle Eastern Shoe Art Renaissance™ defies expectations. First we saw the
homages to Oldenburg
and
Rauschenberg
, then
Jeff Koons
, so naturally I thought the forward momentum through art history would continue. I envisioned perhaps a shoey Damien Hirst, either encrusted with diamonds or suspended in formaldehyde, or maybe a Chris Ofili tribute dotted with elephant dung. But no! They've gone back to the 1930s and found inspiration from an unlikely source: Elsa Schiaparelli's
famous Shoe Hat
, her wonderful collaboration with Salvador Dali (memorably referenced by Terry Gilliam
in

Brazil
). And then, like another great modernist,
Edward Steichen
, they immediately grew disaffected with their creation and set it on fire.
I'm through trying to predict the future of this delightful art movement. Like the rest of you, all I can do is sit back and wait for whatever marvels lie ahead.
EDIT: Condi's praising the Bush legacy some more.
A+! Two Ferragamos way up
!