In this photo released by the McCain 2008 campaign, Republican vice presidential candidate Alaska Gov. Sarah Palin and her husband Todd Palin watch the final presidential debate from their hotel room in Manchester, N.H., Wednesday, Oct. 15, 2008. (AP Photo/McCain 2008 Campaign, Shealah Craighead)
UPDATE: I changed my mind; it looks like this: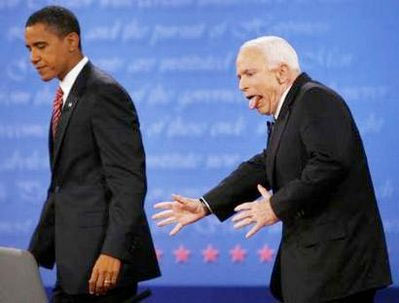 US Republican presidential nominee Senator John McCain (R-AZ) reacts to almost heading the wrong way off the stage after shaking hands with Democratic presidential nominee Senator Barack Obama (D-IL) at the conclusion of the final presidential debate at Hofstra University in Hempstead, New York, October 15, 2008. REUTERS/Jim Bourg
Jim Bourg must have thought he had died and gone straight to heaven. Is there such a thing as an instant Pulitzer?