Image via Delaware Online

Sarah had her cutesy Hockey publicity stunt today! The crowd
went wild
:
So, how did Philadelphia Flyers fans greet Sarah Palin, who was on hand tonight for the ceremonial puck-drop?

Watching on Comcast, it seemed like there was an avalanche of boos when she walked out -- boos that were almost immediately drowned out by blaring, bombastic music.

There is no doubt in my mind that that the music was ordered up to help tamp down what could have been an even more embarrassing moment.

The weirdest part of it was that Palin, who had to know she was going to be booed, walked out with her cutie pie 7-year-old daughter, Piper*.

Why do I have a feeling that poor Piper will be discussing being booed by thousands with a therapist in about 10 years?
Also, ha ha: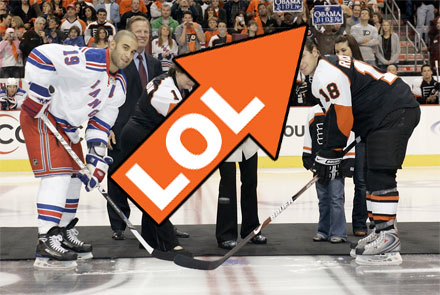 See, you let Sarah outside her bubble, and you just can't control what happens! Tsk. Meanwhile, within her carefully crafted Avon crystal sphere, Sarah's whipping up the crowd with
abortion, abortion, abortion
, since the McCain campaign has pretty much been shamed out of using anything else. It's only a matter of time before she starts smearing Obama for associating with known domestic homosexuals. I look forward to seeing pictures of hockey moms carrying signs emblazoned with lipstick-wearing pit bull fetuses. Cute!
*According to Fox News, Palin intentionally brought adorable Piper along as
a boo-shield
:
The GOP Vice-Presidential nominee said at an earlier fundraiser that she would stop some of the booing from the rowdy Philadelphia fans by putting her seven year old daughter, Piper in a Flyers jersey. She said, "How dare they boo Piper!"
She really is a cute kid: