Cindy McCain, wife of Republican presidential candidate John McCain, greets fans before the start of the NASCAR Sprint Cup Series Bank of America 500 auto race at Lowe's Motor Speedway in Concord, N.C., Saturday, Oct. 11, 2008. (AP Photo/Terry Renna)
I guess it goes without saying that Cindy McCain is, like, 100% more faboo without her doddering husband, but
HUBBA HUBBA
, OMG. She's done more for jeans and a black turtleneck than anybody since Steve Jobs. And next, as if to prove she has glamour in countless reserves, she then threw on a sensational magenta leather jacket I would kill for: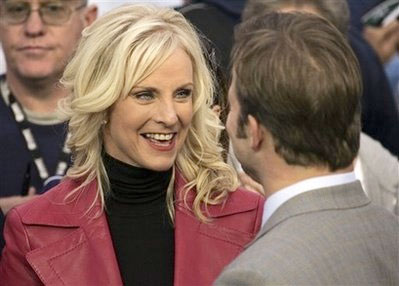 Do you think she has a full-time hair-tossler? I do, and I think it's money well spent. Here's another photo which shows the color of the jacket better, and also shows her healing the dowdy:
Just after the photograph was taken, that woman's wrist scrunchy evaporated in a sparkley
poof
of glitter and Chanel #5. And remember, though I've been lax about this lately, NO MEAN COMMENTS ABOUT CINDY.