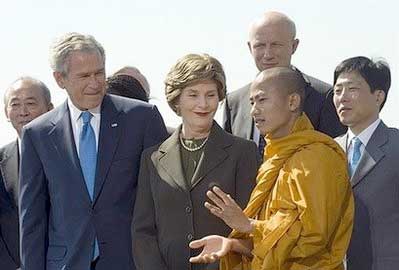 Burmese monk U Kovida (2ndR) speaks with US President George W. Bush (2ndL) and First Lady Laura Bush (C) during a meeting with dissidents on Governor's Island in New York. (AFP/Jim Watson)
Wheee! Oh, Crazy Eyes,
we love you
:
CNN: Do you think she has the foreign policy experience that everyone's criticizing her about?

BUSH: Well, obviously — Of course she doesn't have that. That's not been her role. But I think she's a very quick study, and fortunately, John McCain does have that experience.
But... but... she can see Russia from her house!