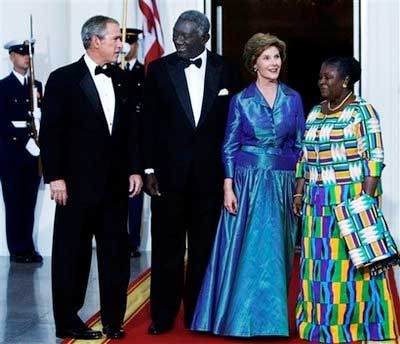 President Bush, left, and first lady Laura Bush, right, welcome Ghana's President John Kufuor, second left, and his wife Theresa Kufuor, to the White House, Monday, Sept. 15, 2008, in Washington, for a State Dinner. (AP Photo/Manuel Balce Ceneta)
Seriously, so cute! I think Mr. Kufuor is easily the most adorable thing to ever enter the White House. If only her husband had 1/8 of her kickiness. The outfit looks like it was designed by Matisse. Two sparkley hooves way, way up!
And, um, since I've been so horrible and
sexist
lately, the less said about Crazy Eyes' dress, the better.