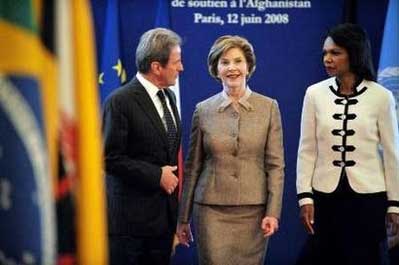 France's Foreign Affairs Minister Bernard Kouchner (L) greets U.S. first lady Laura Bush (C) and U.S. Secretary of State Condoleezza Rice at the Kleber international centre in Paris June 12, 2008. Ministers from dozens of countries gathered in Paris to pledge funds for Afghanistan and review their development strategy for the violence-plagued state. REUTERS/Eric Feferberg/Pool (FRANCE)
See Crazy Eyes' confident swagger? She knows who's in charge. See Condi's sour look? She does, too! I've mentioned before that many of Condi's duties have been turned over to the first lady, and last week's stunningly purposeless journey to Afghanistan certainly proved that. That was supposed to be Condi's unnecessary journey! And now, there she is, just there to sign the papers, I guess.
A lot of people leave comments here saying,
OMG, what will you do when Condi leaves?
But, you know, by that time, I'm thinking all of us will be pretty much over her*. Don't you think? Heck, coming up with a new subtitle for the blog won't be that hard. Hmmm...
I keep track of Ursula Plassnik's scarves so you don't have to
has a nice ring to it.
*The latest
poll numbers
suggest America agrees with us.