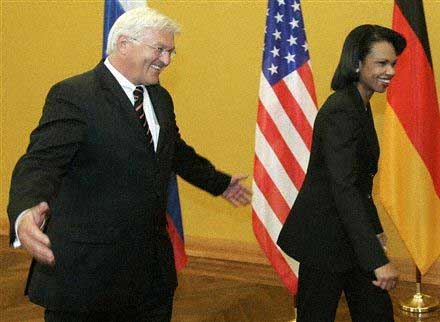 (Steinmeier 'n' Rice, May 30, 2007, AP)
And this is a startling revelation, indeed! Especially since previously we've been told that Condi doesn't even use email! But anyway, in a story that can best be described as
cutesy bullshit
, we encounter Killjoy Condi throwing a wet blanket on
Ursulapal
and Sparklefave Walter Steinmeier's plans to throw out the first pitch at a baseball game in Boston:
"I would tell him not to do that," Rice mused, before turning to her German counterpart and adding: "This is risky Frank."

Steinmeier will venture into Boston's famed Fenway Park to throw out the first pitch of the second game between the two bitter rivals whose fans are known for not being kind to sub-par performers.

"Good luck Frank. I will be looking for the YouTube version of that," Rice said.
Wait, is this Condi trying to be hilarious again? That's so funny! Plus, why would Condi worry about
somebody getting booed while throwing out a first pitch
? Aw, is she still having nightmares about that?