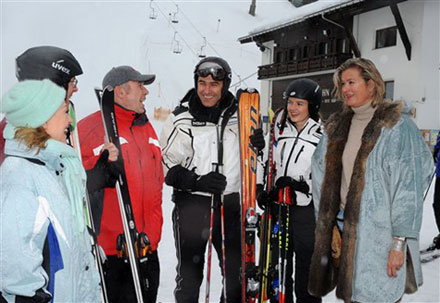 Participants of the 11th Europe Forum with EU Foreign Affairs Commissioner Benita Ferrero-Waldner, EU Parliament President Hans-Gert Poettering, Austria's Chancellor Alfred Gusenbauer, Slovenia's Prime minister Janez Jansa with companion Urska Bacovnik and Austria's Foreign Minister Ursula Plassnik, from left, pose for the media in Lech, Austria, on Saturday, March 1, 2008. (AP Photo/Hop-Media, Bernhard J. Holzner)
OMG, so fun! Ursula and her friends turned a potentially boring diploconfab into a ski party! I now have no greater ambition than to hit the slopes with the affable Austrian giantess. I don't see Ursula holding any skis, so I imagine she just races down the mountain bare-footed. Here's our new favorite snow bunny with her boss: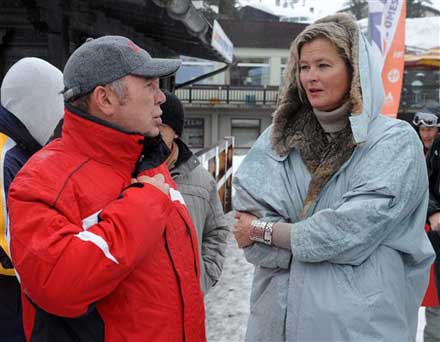 I can't possibly come up with a better example to contrast exciting, lovable Ursula with drab, fun-vacuum Condi. Or can I? Well, you're in luck, because that's the subject of this week's Condi Roundup at Wonkette: Ursula as the Anti-Condi! I'll post the link when it's up (
it's up
!)! Happy Monday! OMG!