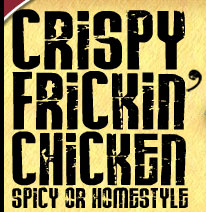 I usually don't like it when people accuse other people of having "too much time on their hands," but in this case I'll make an exception.
It seems that there's a convenience store which put up a bunch of billboards advertising their "Crispy Frickin' Chicken" sandwiches, and now everybody is
up in arms
about it.
Well, not everybody; just a few people. Well, OK, really just two people. Who on earth could be this oversensitive? What kind of person has nothing better to do than combat mild expletives? There's a predictable clue in the article:
Carrying a worn-looking Bible in his hand...
Ah yes. Never saw that coming, did you? What is it about that book that causes brain cells to immediately start dying the moment one opens it?
And just look at all the
free publicity
the chain got out of it!
Now that the Christians have solved poverty, injustice and all sundry forms of misery, I look forward to their war against shucks, darn, and heck.