Kosovo Serbs set fire to a poster showing Serbia's President Boris Tadic wearing a traditional Albanian cap and shaking hands with U.S Secretary of State Condoleezza Rice, and also an EU flag, during a protest against independence of Kosovo, Monday, Feb. 25, 2008, near the key bridge between two parts of ethnically divided town of Kosovska Mitrovica. Kosovo Serb protesters rallied against Kosovo's independence in the new nation's tense north, in what has become a daily challenge of the country's secession from Serbia. (AP Photo/Srdjan Ilic)
Neat! A tad ungrateful, though, because Condi did, after all, recognize Kosovo instantly as a shiny, brand new country (but only after dodging questions about it for years).
Meanwhile, what the heck was Condi wearing this evening when she greeted the President of South Korea? I'm not sure: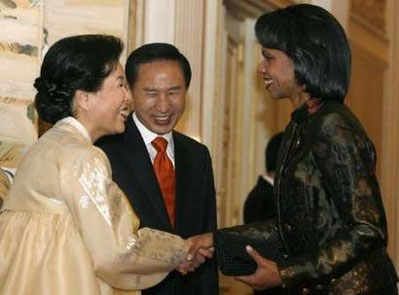 (Reuters)
At first I was worried because I thought somebody had smeared dung all over a perfectly good satin jacket, but upon closer inspection I was startled to realize that the design was intentional. What'll they think of next?