US Secretary of State Condoleezza Rice (L) attends a news conference with Britain's Foreign Secretary David Miliband in Lancaster House, central London February 6, 2008. The United States and Britain, the foreign countries with the most troops in Afghanistan, called on reluctant NATO allies on Wednesday to share the burden of combat against hardline Taliban guerrillas. RETUERS/John Stillwell/Pool (BRITAIN)
Condi's trip to London today, even by Condistandards, was completely unnecessary. She went there to talk about Afghanistan. Um, OK. Whatever! And how are things going there, according to the glamorous Princess Diplomat?
Bumpy
. Anything more specific? No, not really. C'mon, this is Dr. Ferragamo we're talking about.
Also, PLUCK IT OUT, CONDI, PLUCK IT OUT: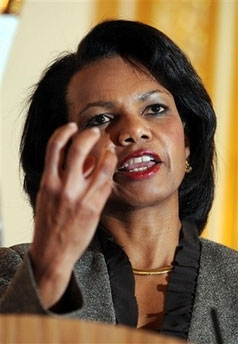 (AFP)
And I have to apologize that I've totally neglected the Condoleezza Hairdo Alert System™ lately, leaving it stuck inaccurately at "elevated," but it turns out that's OK, because there's some kind of malfunction going on here: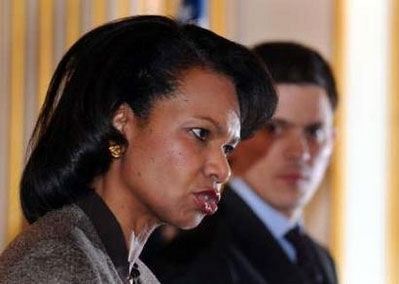 (Reuters)
And finally, remember when Condi got all miffed recently when our UN ambassador made the mistake of being in the same room as an Iranian without Bush's permission? Well! Today Reuters reported (EDIT: whoops,
here's the link
) that she chastised him... personally! Mildly, but still! Did she wear the boots? Oh, if only we could all be so lucky.