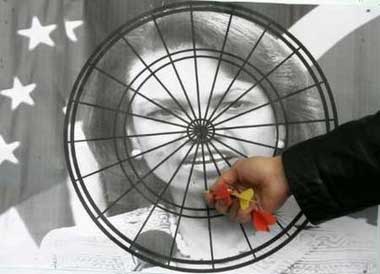 A man removes darts from a portrait of U.S. Secretary of State Condoleezza Rice during a demonstration in Ankara November 1, 2007, to protest against her visit to the Turkish capital on Friday. Rice arrives in Ankara on Friday for talks with Turkey's leaders, before going to Istanbul for a meeting of Iraq's neighbors and major powers that is also expected to be dominated by tensions between Iraq and Turkey. REUTERS/Umit Bektas (TURKEY)
Oh, dear, I'd say not so well! Aren't the Turkeys supposed to be our friends?
UDPATE: More Pictures!
And the great thing about throwing sharp objects at Condi? It's fun for the whole family: