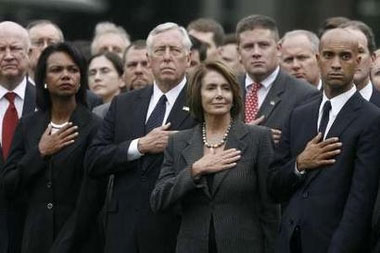 (L-R) U.S. Secretary of State Condoleezza Rice, House Majority leader Steny Hoyer (D-MD), House Speaker Nancy Pelosi (D-CA) and Washington D.C. Mayor Adrian Fenty take part in a ceremony commemorating the sixth anniversary of the Sept. 11 attacks, on the South Lawn of the White House in Washington, September 11, 2007. REUTERS/Jason Reed (UNITED STATES)
OMG, that's totally too much material for hand turkeys for me, but I think we've made a few too many trips to
that
well lately, haven't we? So anyway, funny combination of people! Condi is standing off-center with a bunch of Demoncrats hogging her spotlight! And Mayor Fenty is looking fabulous!
That bitch!
But anyway, since 9-11 is supposed to be a day of remembrance, can we please bring this blog back down to the important issues, the things that really matter? The primary issue of our times, one which we've neglected terribly? OK? I'm speaking, of course, of Condi's hair. I am
hating, hating, hating
Dr. Ferragamo's hair right now! Ew. And I'm kinda in a k-hole about it, because do I lower the Condoleezza Hairdo Alert Level? Do I raise it? Oh, I just hate it! Look at Condi's hair at that memorial thingy:
(REUTERS/Kevin Lamarque)
It's just... lying there, fallow. It looks like... OK, you know when you see, like, a newscaster lady in the supermarket on a Saturday? THAT is what Condi's hair looks like.
But what's totally unfair is that since there are good reasons to lower the hairdo alert (overall malaise, lack of media attention, general dowdiness), and equally valid reasons to raise it (creeping length-change, apparent loss of structural integrity, sharp decline is bounciness), those two otherwise opposing factors in evaluating Condoleezza Hairdo Alert System levels, alas, cancel each other out. And so the alert level remains unchanged, lifeless. Not the fun roller-coaster of a feature I designed it to be! This is unfair!
This
is a hairdo in decline: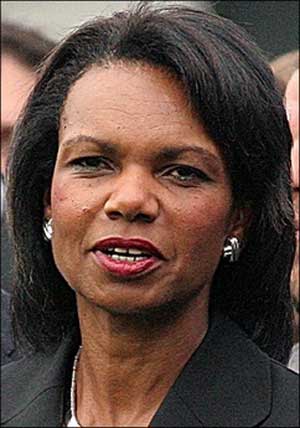 (AFP/Karen Bleier)
Something has to be done! (Also: Condi, please ask your makeup artist to reconsider his lipstick techniques.)
That's not a very nice picture of Condi. I think she had a tiring morning, what with the remembrancing and all. It must be interesting to be a thought buzzing around in her bonnet on a day like today, don't you think? What merry thoughts they must be! Yay for anniversaries!
Anyway, after all that, I'm pretty sure Condi was worn out, so they sent out the labor-saving Disneytronic Condibot later for her matching armchairs session with that Gela guy from Georgia (not the Southern one, the Commie one):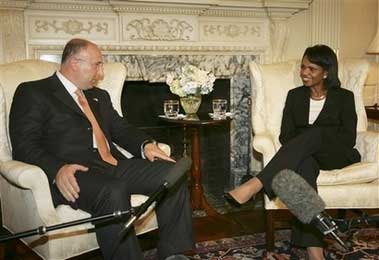 Secretary of State Condoleezza Rice meets with Georgian Foreign Minister Gela Bezhuashvili , at the State Dept., Tuesday, Sept. 11, 2007, in Washington. (AP Photo/Lawrence Jackson)
And I know that's the Condibot, not the real secretary of state, and I know that the Condibot's manufacturers must employ the most advanced wig technology for their diplomatic simulacrum, but I'm still hating the hair. I wonder what they chatted about? Wouldn't it be great if she were in the matching armchairs like she always is, you know, just sitting with some head of state from some fictitious island nation or something, and then they totally turned and were all, like, "Condi. I
really
hate your hair." I mean, try to picture that Gela guy up there totally doing that. OMG, wouldn't you just die?
But she needs to know! Who is going to tell Condi about her hair? Is that what people mean when they talk about Condi (or about George) living in a bubble? I used to think that people meant like John Travolta in that movie about the sick kid who couldn't stand germs, but now I get it! It's because there's nobody around Condi who can say to her, "Hello? Condi?
The hair?
"
With all those thoughts she has swirling around in her head on a special anniversary day like today, I just totally think she should have a way better hairdo to cover them with. That's all.