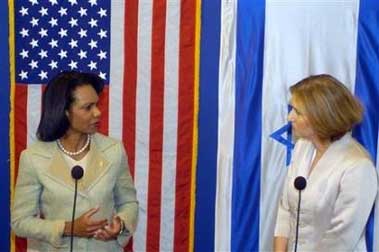 Secretary of State Condoleezza Rice (L) holds a joint news conference with Israel's Foreign Minister Tzipi Livni in Jerusalem August 1, 2007 in this
picture released by the U.S. Embassy. (Matty Stern/U.S. Embassy/Handout/Reuters)
This is only a hit 'n' run quicky, but the second I saw the above pic, I just knew I had to post it before the Tzipi fans filled up my inbox. I'll follow up on Condi's no-doubt magical day later.
UPDATE - Would you like some very strange, tortured body language with gnarled up hands? OK: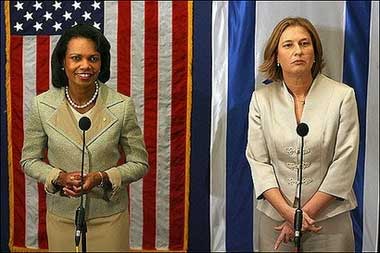 And last but not least, the Israelis may not provide adequate tissue resources, but they know how to do the matching armchairs thing:
US Secretary of State Condoleezza Rice(L) meets Israeli Defence Minister Ehud Barak in Jerusalem. Rice called on the Middle East on Wednesday to seize the moment to jumpstart dormant peace talks as she sought to lay the groundwork for an international peace conference later this year.(AFP/POOL/Uriel Sinai)
Oooh... loving the panty hose, Condi!