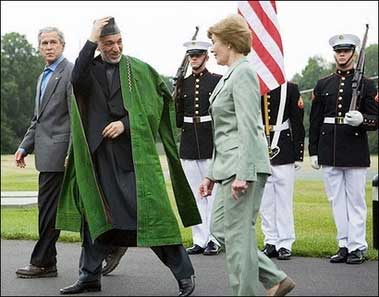 Afghan President Hamid Karzai (C) speaks with US First Lady Laura Bush (R) as President George W. Bush looks on upon his arrival at the Camp David presidential retreat in Maryland. Bush challenged Monday his ally Afghanistan President Hamid Karzi's contention that Iran played a positive role in his country, maintaining that Tehran was "not a force for good."(AFP/Mandel Ngan)
So, OK, imagine you're Laura Bush (whoah! Calm down, drop a few Xanax, OK?), and you're standing in front of your closet thinking, "Hmmm, who should I coordinate my outfit with today? George? Or...
ooooh, Hamid!
" I think she made the obvious choice. Can you stand the glamour?
But, OMG, I doubt Camp David was any less sweltering than DC was yesterday. Karzai must be sweating up a storm under all those yards of fabric... a Desert Storm, even!
Oooooh, hot 'n' sweaty Karzaikins. Mmmmmmmm.
*passes out*