Sen. Dianne Feinstein, D-Calif., left, and Sen. Larry Craig, R-Idaho, participate in a news conference on agriculture and immigration reform, Tuesday, May 15, 2007, on Capitol Hill in Washington. (AP Photo/Susan Walsh)
Oh, I love signs at press conferences; they just make it so easy: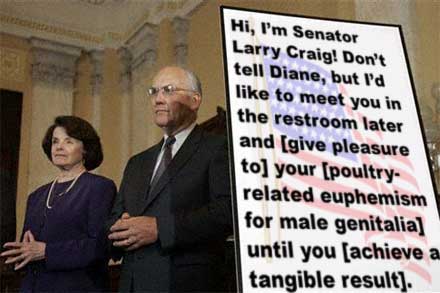 Also,
ahem
! Sen. Craig had a brave
press conference
(this link goes to CNN, who delightfully refer to their subject as the
bathroom scandal senator
on their current front page) all his own, today! And he'd like us all to know that, hello? He totally isn't a hairdresser! For real! As if, right?
You see, it turns out that Larry Craig, a man dogged by rumors of lewd sex in public places, totally pled guilty
by mistake
after being arrested for soliciting lewd sex in a public place which had become notorious for illegal acts of lewd public sex. It's all a crazy, unfortunate coincidence!
Anyway, it turns out that it's all the media's fault.