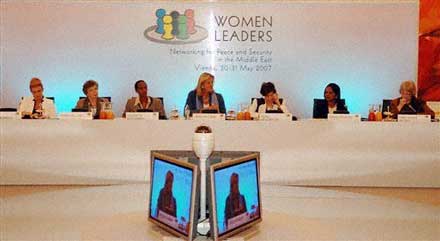 In this picture made available by the Austrian Foreign Ministery Croatian Foreign Minister Kolinda Grabar-Kitarovic, retired senior official of United Nations Relief and Work Agency, UNRWA, Angela Williams, Burundi'd Foreign Minister Antoinette Batumubwira, her counter part from Austria Ursula Plassnik, Minister Delegate for Scientific Research from Algeria Souad Bendjaballah, U.S. Secretary of State Condoleezza Rice and Karen Koning Abuzayd from the United Nations, from left, are seen during a conference called "Woman Leaders - Networking for Peace and Security in the Middle East" at Vienna's Hofburg palace on Thursday, May 31, 2007. (AP Photo/Austrian Foreign Ministry, Bernhard J. Holzner, handout)
Whoah, caption overload! Anyway, Austrian diplamazon/scarf enthusiast Ursula Plassnik threw a big party for all her girl world leader friends, and even though the theme was "networking for peace and security in the Middle East," they went ahead and invited Condi anyway! Why would you invite Condi to such an event? Probably because if they didn't, I guess, she'd mope, pout, and bomb Syria and then totally not share her brownie recipes. Tsk. I wonder if the wire photographers will be allowed to attend the inevitable giggly slumber party to follow? I'll be crossing my hooves!
Maybe inviting Condi to the event was simply a joke, an obviously incongruous "one of these things is not like the others" kinda deal? I mean, c'mon, one of those ladies must have hissed to her neighbor, "Ew, what's
she
doing here?" Perhaps her presence was intended as a handy visual aid so that each and every participant could start her speech with the phrase, "Unlike Condi, here...." Or maybe the affable giantess thought it would be great for everybody's morale to give Condi a queen-sized slap up on stage in front of just everybody? Maybe:

Maybe.
UPDATE: BTW, yes, Tzipi was there. Micheline was not! Must be either that "we're neutral" thing or maybe being president got her all uppity.