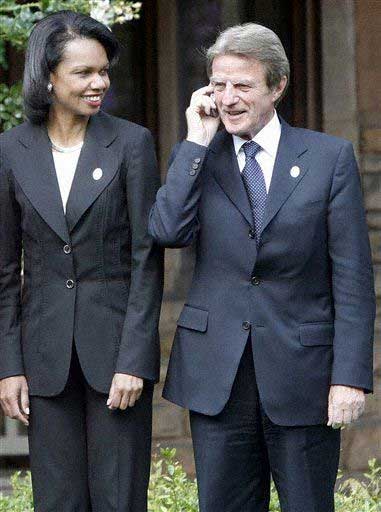 France's Foreign Minister Bernard Kouchner, right, makes a telephone call beside US Secretary of State Condoleezza Rice, left, during a photo opportunity during the G-8 Foreign Ministers meeting in Potsdam, Germany, Wednesday, May 30, 2007. (AP Photo/Michael Sohn)
Probably not much, actually, but I'm going with this: the inability to correctly button their ugly coats. Bonus points to Kouchner for pretending to talk on his cell phone so that he could avoid Condi. Works every time!
Also, is Frank-Walter making a comment on certain unflattering aspects of Condi's suit, or does he just want a hug? Or both? You be the judge: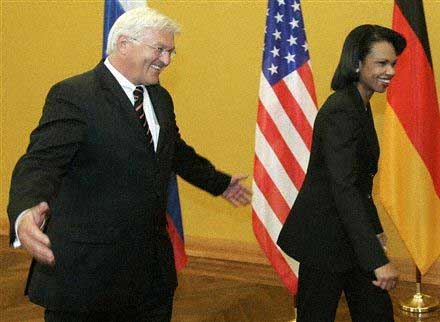 German Foreign Minister Frank-Walter Steinmeier, left, welcomes U.S. Secretary of State Condoleezza Rice to a meeting of the quartet of Middle East peacemakers in Berlin, Wednesday, May 30, 2007. The Quartet was gathering Wednesday to discuss how to overcome a new flare-up in fighting between Israel and Hamas militants in the Gaza Strip. The U.N. secretary-general said he hoped the meeting would help "facilitate the peace process." (AP Photo/Tobias Schwarz, Pool)
Let's change topics, OK? I just wanted to post this picture to celebrate Bush's nomination of Condipal Robert Zoellick to be King of the World (Bank):
((AP Photo/Elizabeth Dalziel, File, 01-25-06)
Take
that
, Cute Overload!