Sen. Minority Leader Mitch McConnell of Ky., center, flanked by Sen. Lindsey Graham, R-S.C., left, and Sen. Mel Martinez, R-Fla., meets with reporters on Capitol Hill in Washington, Thursday, May 10,2007, after a conference to discuss immigration reform. (AP Photo/Lawrence Jackson)
Oh, they just
love
standing there and talking, and the photographers know that with just a wee bit of appropriately deferential kneeling --hey, presto!-- instant halo. Everybody wants one.
Look again, though, and you can see the tragic consequence of this perhaps undeserved glory: McConnell is clearly transforming into a frog.
And that's too bad, because it's usually a good idea to go for the halo shot. Where did Mitch get the idea to go for it? Two-and-a-half weeks ago, from --who else?-- Dick Cheney: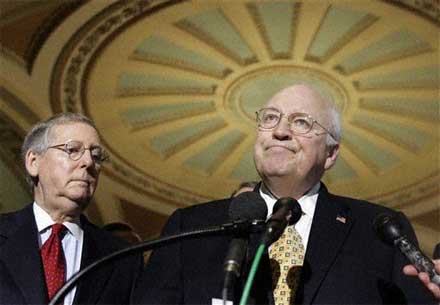 Vice President Cheney speaks about the war in Iraq on Capitol Hill, Tuesday, April 24, 2007 as Senate Minority Leader Mitch McConnell, R-Ky., stands at left. (AP Photo/Susan Walsh)
OMGOMGOMG, but speaking of Mitch McConnell? OMG. Here's one you may have missed: do you know who he took to the Queen Party™? He took that Elaine Chao lady, you know that one who is the Secretary of Labor and, I think, a famous comedian or something? Ew: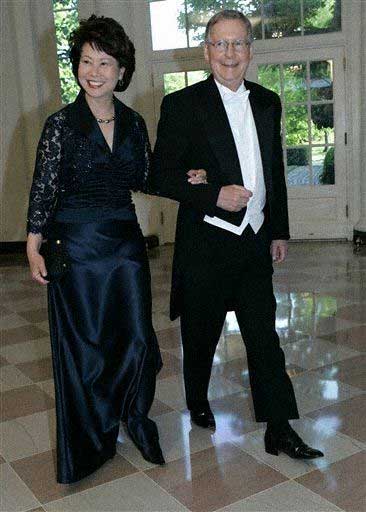 Secretary of Labor Elaine Chao, left, and Senate Minority Leader Mitch McConnell, R-Ky., walk through the Booksellers Area as they arrive for the State Dinner in honor of Queen Elizabeth II and her husband Prince Philip, Monday, May 7, 2007, at the White House in Washington. (AP Photo/Haraz N. Ghanbari)
Are they serious? I mean... just ew.