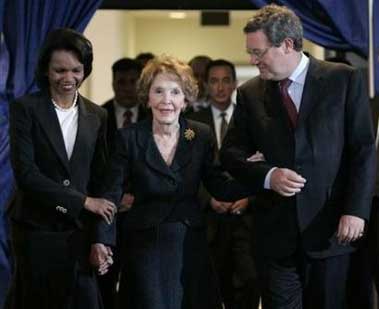 Secretary of State Condoleezza Rice (L) and Foreign Minister of Australia Alexander Downer (R) escort former first lady Nancy Reagan to her seat as they enter to deliver remarks after meeting in a dialogue on foreign policy at the Ronald Reagan Presidential Library in Simi Valley, California May 23, 2007. (Danny Moloshok/Reuters)
The Widow Reagan shows who's who in the food chain pretty directly, I'd say. I'm totally sure that's the labor-saving Disneytronic Condibot rather than the genuine article, though, because why would the real Condi waste her time at this ridiculous event? I mean... a dialogue on foreign policy with
Australia?
Are you kidding me? They really are our only remaining ally, I guess.*
But I'm sure the Reagan Library treated the Condibot carefully and even lovingly. And look! They even set up a perfect (if a tad rectilinear) matching armchairs photo-op to make her feel at home; a habitrail-of-sorts for the distinguished visiting diplobot: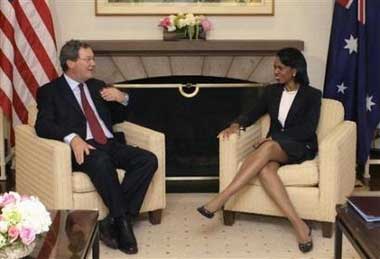 OK, so it's a bit severe compared to the State Department's matching armchairs gold standard, but four out of five of the elements are present in technically perfect form (matching armchairs, fireplace, patterned rug, small and tasteful flower arrangement), if a little inelegant. The only thing keeping this from a perfect score is, of course, the placement of the flower arrangement, which should be on a small, centrally-placed table (the fifth element, as it were).
*Plus, I bet they
had
to send the Condibot, because the real one is probably still
stuck in that cactus patch
back in Texas.