Austrian Foreign Minister Ursula Plassnik, left, welcomes her counterpart from the Czech Republic Karel Schwarzenberg for talks at the foreign ministry in Vienna, on Monday, March 26, 2007. (AP Photo/Ronald Zak)
That's our Ursula this morning, breezy as a Breck Girl (complete with a sassy hair flip!) as she meets her Czech counterpart. See, when your policy is competence, work is fun! I wonder why Condi hasn't ever tried this approach? Things are so much more fun, duh, when the whole world doesn't hate you.
And make no mistake: people
luv
Ursula! What did she do yesterday? Why, she held an open house! Can you imagine? Seriously, can you imagine Condi throwing an open house at the State Department and inviting the local children and serving them cake? No? And yet that was the scene yesterday in Ursulaland:
Austria's Foreign Minister Ursula Plassnik, center, cuts a cake on the open day at the Ministry for European and International Affairs in Vienna, Austria, Sunday March 25, 2007. (AP Photo/Hans Punz)
How long can this blog continue before changing the subtitle to "I keep track of Ursula's scarves so you don't have to"? Hey, at least I have my exit strategy prepared for 2008, if you know what I mean!
Anyway, so how was Condi's weekend compared to Ursula's special party day? I mean, she went on a trip and everything. As usual, a picture is worth 1,000 words: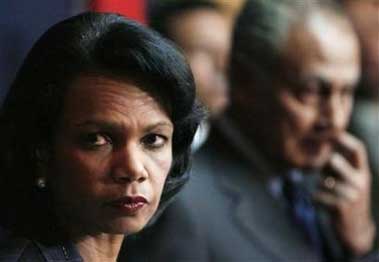 U.S. Secretary of State Condoleezza Rice (L) listens to a media question next to Egyptian Foreign Minister Ahmed Aboul Gheit during a news conference in Aswan, some 1,200 km (746 miles) south of Cairo, March 25, 2007. Egypt said on Sunday Arab states were ready to negotiate with Israel if the Jewish state accepts their 2002 peace initiative as a starting point. (Goran Tomasevic/Reuters)
Hmmm... maybe Condi should move to Austria? It seems like diplomacy is
way
more fun there.