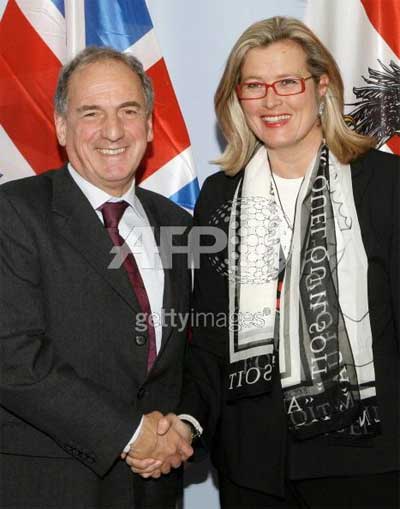 Vienna, AUSTRIA: Austria's Foreign Minister Ursula Plassnik (R) welcomes Britain's Minister of State Kim Howells 06 February 2007 in Vienna. Howells is in Vienna on an official visit. AFP PHOTO/DIETER NAGL (Photo credit should read DIETER NAGL/AFP/Getty Images)
What secrets does the Austrian diplamazon encrypt in the borders of her mighty scarves? If Ursula's neck wear could speak, what would it say (EDIT: besides
Helllooo down there!
)?
Perhaps we can find out at Global Fashion Week? Don't laugh, because
this article
in the Telegraph offers tantalizing glimpses of
The Man Behind the Scarves
:
The Turkish designer, Atil Kutoglu, who is based in Vienna where he works part-time as a lecturer, mixed East and West influences in a manner which echoed the rich, cosmopolitan history of his native Istanbul.

Kutoglu, who counts the Austrian Foreign Minister, Dr Ursula Plassnik and a bevy of arch-duchesses among his clientele, concentrated mainly on cocktail and evening wear in rich, metallic brocades, striped silk and panne velvet, printed with geometric patterns inspired by the Ottoman empire.

Long dresses featured blouson effects in front and deep, draped cowl backs which exposed spinal cleavage. Coats and jackets had unusual two-tiered sleeves shaped like the lanterns in a sultan's palace.
This does help explain some of Ursula's more... adventurous... ensembles, does it not?
Also, how great is the phrase
a bevy of arch-duchesses
?