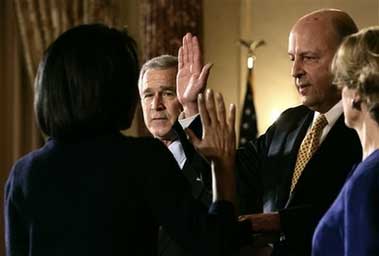 President Bush, second left, looks on as Secretary of State Condoleezza Rice, left, ceremonially swears in Deputy Secretary of State John Negroponte, second right, at the State Department in Washington, Tuesday Feb. 27, 2007. At right is Negroponte's wife Diana. (AP Photo/Charles Dharapak) Email Photo Print Photo


I don't really have much to say about this one, but doesn't everybody look happy? Granted, it's got to be loads more fun to be under Condi than George.
EDIT: Also, OMG, do you realize just how close we were this morning to Condi becoming vice president? Damn Cheney's lucky stars!