Swiss Foreign Minister Micheline Calmy Rey speaks during a signing ceremony at the EU Council building in Brussels, Monday Feb. 27, 2006. Switzerland will finance projects in the European Union's 10 new member states worth 1 billion Swiss francs (645 million) over the next five years, the EU executive office said Monday. (AP Photo/Virginia Mayo)
What is it about diplogals? Please gaze in wonder at the incredible new President of Switzerland, Micheline Calmy Rey, who, besides being named after a brand of tires, also sports one of the most fascinating coiffures to cross my desk in some time. It's like a Beatle cut with a blond starfish draped over the top, and I declare it outstanding, and I also wonder if this is the proof of extraterrestrial life we've been waiting for.
And, of course, Micheline is Condi's Swiss counterpart. But get this: even though she's the new head of state, I guess it's a part-time gig and she has to keep her day job as foreign minister! Oh, Switzerland is a peculiar, primitive place!
But how does she get along with her gal-pals, the other girl foreign ministers of the world? Well, who do you think organizes the slumber parties? Indeed:
swissinfo: A few years ago you launched an international network of woman ministers. Do you plan to build it up?

M. C:R.: The network of woman foreign affairs ministers was initiated by a number of people who wanted to meet up, exchange experiences and advance certain women's issues. We meet twice a year during the Human Rights Council and UN General Assembly sessions. In 2005, for example, we helped establish the Office for the Convention on the Elimination of all forms of Discrimination against Women in Geneva on a permanent basis.
And to prove her bond with her girlish colleagues, here's a picture of Micheline with Sparklestar Ursula Plassnik: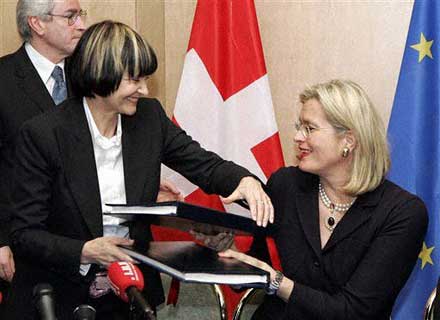 (AP Photo/Virginia Mayo)

Try to contain your fantasies for the rest of the day. And a grand swish of the combable tail to the shy Pony Pal™ who alerted me to this awesome world player!