November, 2005 (AP Photo/KEYSTONE/Edi Engeler)
Last Thursday I introduced a
new starlette
in the Pink Pony Pantheon, fabulous Micheline Calmy-Rey, ceremonial girl President/Foreign Minister of Switzerland. I suspected this frisky little attention-getter could hold her own in the pink spotlight with such beloved Sparklefaves as Karen Hughes and Tzipi. And sure enough, I was gratified when Pony Pals™ responded excitedly in one voice:
We love Micheline!
And I do, too! OMG! I also sensed an extra
frisson
of pleasure amongst readers of this blog concerning the photo of Micheline with her slumber party-mate Ursula Plassnik, the amiable, herculean Austrian diplogiantess. Well! Consider this post porn for you, then! I love the above photo for the sheer magnitude of Ursula's scarf alone, but I'm sure you'll agree with me that its best feature is just how much the photographer had to tilt his camera to get the two gal-pals' heads level. You've gotta look up to Ursula, and I mean that physically!
Mrrrowr!
More? Prepare yourself: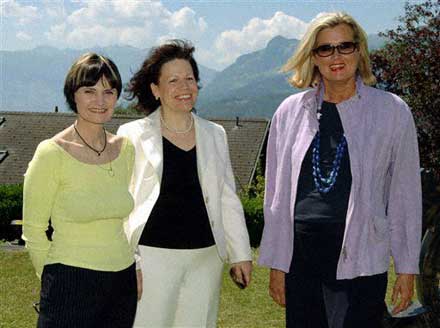 July, 2006 (AP Photo/HOPI MEDIA/Bernhard J. Holzner, handout)


That's right, Pony Pals™, it's a hot diplomatrix sandwich. And who's the mayo? Why, that's Leichtensteinamarian foreign minister Rita Kieber-Beck! *sigh* Aren't you already imagining them in a giggly pillow fight with Condi 'n' Tzipi? OK, that's plenty of Ursula/Micheline fantasy material to last you all a while.
And, finally, I couldn't resist: