Austria's Foreign Minister Ursula Plassnik (L) and her Israeli counterpart Tzipi Livni attend a conference marking 50 years of diplomatic relations between the two countries, in Jerusalem December 3, 2006. REUTERS/Ronen Zvulun
The Israeli Foreign Minister proves what Pony Pals™ already know: when Ursula Plassnik is in the room, she just totally owns it, and all one can do is gaze at her in wonder. OMG, why can't we have our own diplomatic giantess? This "dueling podiums" shot is wonderful because it highlights the towering Austrian superstar's height as well as her famous scarf-wearing skills: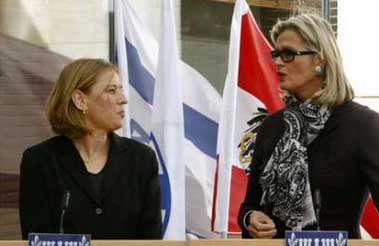 Oh, Ursula, please don't ever change. Don't you wish she would get together with Condi 'n' Tzipi for an old-fashioned slumber party, with giggles 'n' cuddles and hair-braiding and naughty secrets? I think we all know who would win
that
pillow fight.