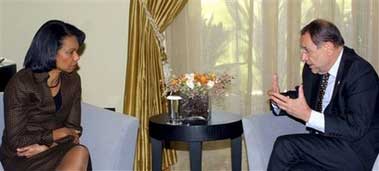 U.S. Secretary of State Condoleezza Rice, left, meets with EU foreign policy chief Javier Solana, right, during the Forum of the Future conference at the Dead Sea in Shouneh, Jordan, Friday, Dec. 1, 2006. (AP Photo/Mohammad Abu Ghosh)
It's been kind of a drab Condiweek, so all we're left with is this classic matching armchairs photo-op from earlier today. The body language really says a lot, though: Solana's hands are all, like,
I'm trying to explain something over and over, but she just won't listen
, while Condi's are totally, you know,
I'm not listening, I'm not listening, you can't make me listen. la, la, la.
UPDATE: Oh, right... Condi got to talk with Katie Couric last night, and Katie was all, like, blah blah blah Iraq civil war, and Condi was all, OMG, it's not a civil war because the people there don't call it that, so today Think Progress goes um, Condi? Hello?
Yes they do.