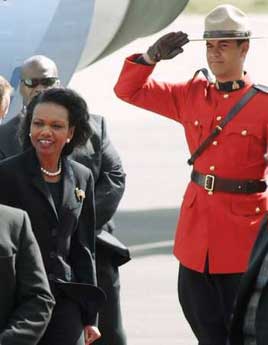 A Royal Canadian Mounted Police officer (R) salutes as US Secretary of State Condoleezza Rice arrives at the Halifax International Airport for a two-day visit, September 11, 2006. Rice arrived in Nova Scotia to thank the Canadian people for their help in welcoming passengers on diverted flights during the September 11 attacks. REUTERS/Paul Darrow (CANADA)
Aw, isn't that the nicest thing? They sent Condi to the most boring part of Canada to celebrate 9-11 Day! This has become kinda a pattern: something happening in Lebanon? Send her to Malaysia! Nasty business in Iran? Let's go to Nova Scotia! We should be thankful, I suppose, that she's strategically deployed far, far away from any important action. That's our travelling fashion-platelomat!
Good job, Condi, the Mounties couldn't have done it without you! Oh yeah, she also met with that Harper guy, who I guess is the King of Canada or something.