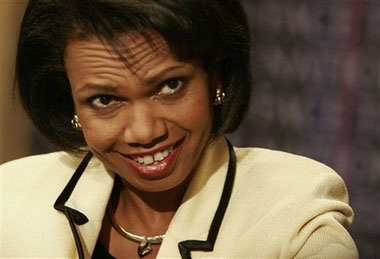 In this photo provided by CBS, Secretary of State Condoleezza Rice appears on CBS's 'Face the Nation' in Washington, Sunday, Sept. 10, 2006. (AP Photo/CBS Face the Nation, Karin Cooper)
Ah yes, Dr. Ferragamo and Tricky Dick covered all the bases this morning, and each was a busy, busy television star, much to our delight and amazement! And just look at that beautiful shot up top! That's the real Condi, not the celebrated Condibot! The Condibot, after all, is not capable of such complex furrowing.
Anyway, Condi took Face the Nation and Fox News Sunday while Cheney had oodles of fun on Meet the Press, and wouldn't you know it? They both said exactly the same things! Neato! It turns out that despite all conventional logic, and in the face of every single shred of evidence, that Saddam Hussein and Al Queda were thick as thieves! Here's Condi's spirited defense of her administration's fantasyland version of the truth, via
Think Progress
:
Rice tried to pin the blame on then CIA Director George Tenet, saying he said, "there were ties going on between Al Qaeda and Saddam Hussein's regime going back for a decade." But in July, Tenet told the Senate Intelligence Committee that "the White House pressured him and that he agreed to back up the administration's case for war despite his own agents' doubts about the intelligence it was based on."

Rice also tried to dismiss the Senate report as being after-the fact, stating, "Now, are we learning more now that we have access to people like Saddam Hussein's intelligence services? Of course." But as Wallace pointed out, a Defense Intelligence Agency report from Feb. 2002 — before the U.S. invasion — also concluded that Iraq and Al Qaeda had no relationship: "Iraq is unlikely to have provided bin Laden any useful CB, that's chemical or biological, knowledge or assistance."

Rice said

she did not remember seeing that report

.
Well, sure, if Condi hasn't seen the report, it can't possibly be true, right?
How about Dick?
This morning on Meet the Press, Cheney repeatedly cited Zarqawi as the link between pre-war Iraq and al-Qaeda. When Tim Russert mentioned the Senate Intelligence Committee report,

Cheney said he "hadn't seen it.

"
Well, that settles it! The brightest minds in America totally agree, and so do Condi and Dick!