I'm writing about this late because I'm still kinda all choked up over it. Yes, something wonderful is being yanked from the schedule, something special, something kinda now, kinda wow: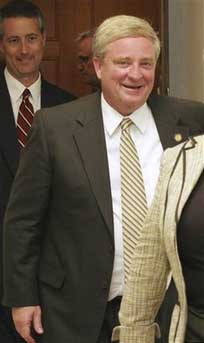 Shed a bitter tear, because Bob Ney's hair will soon be leaving the building. Please contemplate its mysteries:
Is it a rug? A combover? Only his hairdresser knows for sure. But what really gets me is its color. How do you describe that color? Beige? Butterscotch straw? Wheatfield in the moonlight? Also... does the carpet match the drapes? Alas, now we'll never know.
I expect everyone to mourn the passing of Bob Ney's hair in their own special way. Please feel free to share your Bob Ney hairdo reminiscences, but remember that because America is a great country, democracy will ensure that exciting and provocative new hairdos will always be churned up into the halls of power. We csn help each other through this.
BONUS: Meet Bob's replacement! Please worship Ohio state senator Joy Padgett, who has some
troubles of her own
: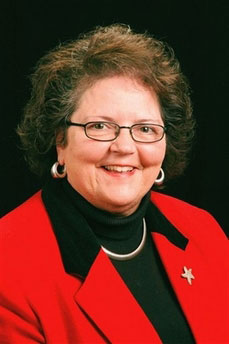 UPDATE: Um, my mention of Ms. Padgett's troubles, above, refers to the linked article from TPM Muckraker, not her rather pleasant appearance. However, those of you who commented that she looks like a nice lady may wish to find out more about her
here
.
UPDATE: I decided on a color name:
Golden Hayseed™