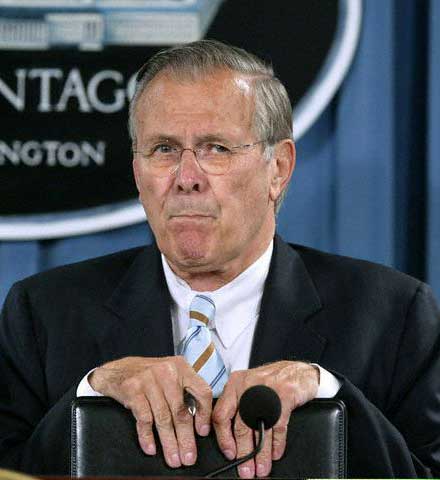 Well! I'm glad he's
cleared that up
for us! Here are some other things that Donald Rumsfeld is not:
Venerial warts
Jayne Mansfield
The fifth incarnation of an important Buddhist lama
Pop sensation Li'l Bow Wow
Beloved children's book author Beverly Cleary
The director of Saw II
Gum stuck underneath a diner counter*
Jesus Christ
Competent
*I mean literally, not figuratively.
UPDATE: We had a lot of fun the other day talking about people searching for pictures of buttholes on the Pink Pony, didn't we? Well, since I took the megapopular "butthole.jpg" picture off my server, it has been super-easy to track the failed requests for it. Yesterday alone there were more than 500 tries! People, invest in a hand mirror; it's easier.