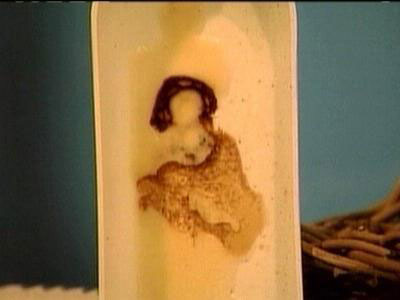 John Milanos was cooking a hamburger on his George Foreman Grill last week in Missouri.

After he was done, he said the Holy Mother's face appeared in the leftover grease.

The grease was in a small plastic drip pan that catches the grease and other fluids that run off the grill.

Milanos saved the grease in his refrigerator so he could show his friends and the makers of the George Foreman Grill.

So far, the company has not responded to Milanos.
Yes, that wily Virgin is
at it again
, this time appearing in congealed fat, blood and, probably, A1 sauce. You know, she has got to get a better agent. Also, what's with all the public appearances this past week? Is she promoting a movie? A tell-all biography? Is she exclusively appearing in junk food, or can we expect her image to arrive in tofu form to broaden her demographic? Will she do Colbert? Questions, questions.
I liked how NBC presented this story this morning, with the newscasters openly mocking Mary's latest downscale visage. "We all know this is stupid," they seemed to be saying. And yet, there they were "reporting" about it!