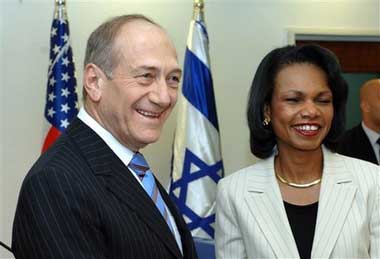 In this photo made available by the Government Press Office, U.S. Secretary of State Condoleezza Rice, right, and Israeli Prime Minister Ehud Olmert smile during a joint press conference at Olmert's office in Jerusalem Tuesday July 25, 2006 . Rice arrived in Israel on Monday for talks about the ongoing fight between Israel and Hezbollah guerrillas in Lebanon. (AP Photo/Amos Ben Gershom/GPO)
OMG, everyone is so nice in Israel! I think they were being extra-supportive to Condi because of her awful, awful hair day yesterday, but today the coiffure is back to standard, thank goodness. Oh, and I think she was there to say, "OK, everybody calm down!" and then they all smiled and said, "Um, OK, whatever you say, Condi!" But, seriously, I think they were just being nice. And just in case you thought her trip there was totally a waste of time, well, she got to talk behind the prettiest blue podiums EVER: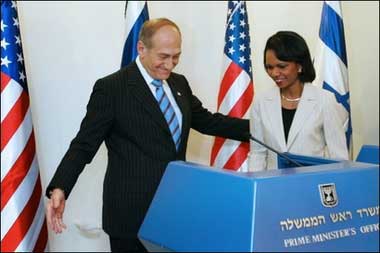 So anybody who thinks that Condi's voyage was completely pointless, I mean... not everybody gets to stand behind those gorgeous blue podiums, OK? Plus, what are you trying to imply, that she's useless or something? Perish the thought! There's a lot of Italian shoe manufacturers who beg to differ!
In other Condinews, it's always fun to see what people in other countries are saying about our favorite Doctor Secretary, isn't it? I found
this article
on some, like, Scandihoovian web site, but I don't read Denmarkian or Norwayish or whatever, so can somebody translate this headline for me?