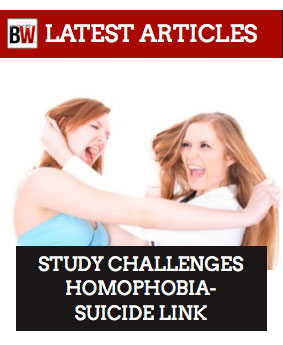 (Screenshot, today.)
I've written before about how
I'm kind of obsessed
with Barbwire.com, Matt Barber's ludicrously anti-gay, anti-secular, anti-... well, everything, website. It's such an inspiring hate-read, it has become a cherished part of my morning routine: I eagerly await 6:00 AM, when they batch-post their new articles for the day.
Now, when I say that Barbwire has an image problem, what I mean is that they literally have a lot of trouble with the images they use for the site. As you can see in the screenshot above, they use a lot of stock photography, and sometimes they seem a little...
challenged
to find appropriate illustrations.
What went through the mind of the person who chose that picture? "Hey! Two redheads pulling each other's hair! That... works."
They also seem to be baffled by the rules which are generally followed by supposedly professional organizations when it comes to image use and permissions. And, look, photographic services and permissions are what I do for a living, so I'm speaking from a position of some authority here. A great example can be seen
here
, where they use a picture from The Oatmeal, completely uncredited and with
its satirical intent
totally, hilariously strangled in the bathtub, as it were. They seem to think that a key part of copyright law is "if it's on the internet, it must be public domain." More often than not, the stock photographs they use come not from the owners of the photographs, but from other web sites who used them previously*. At least, you can tell that when they provide image credits.
So blah blah blah, yes, everybody does this (so do I!). My point is that this is somewhat surprising behavior coming from a website supposedly run by lawyers. Honestly, that site is a
festival
of copyright infringement.
So good.
*UPDATE: Here's a good example. Barbwire credits the image used for
this post
to "communities.washingtontimes.com" when, in fact, it's an Associated Press photograph which can be seen properly credited and paid for
here
. The image of Obama
Barbwire uses here
is credited to the Washington Post; it is, in fact,
a Reuters photograph
.