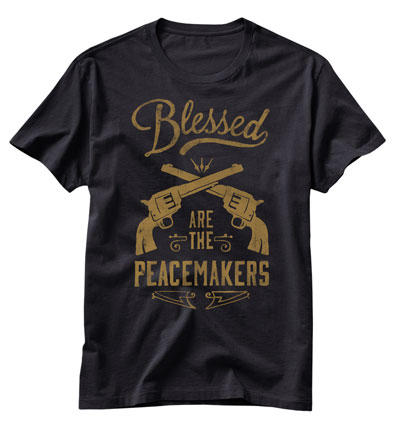 I was obsessing over my favorite new website, Barbwire.com, again, and I noticed they had a store! Well, no, they don't actually have "Barbwire" merchandise; instead, they simply link to the Patriot Depot, your one-stop-shop for all your Government-Hating Patriot (!?) needs.
I especially enjoyed the shirt pictured above, and just in case you think they're intentionally trying to be ironic, there's an explanation which should clear that right up for you:
"Blessed are the peacemakers". These words, spoken by Christ in the Sermon on the Mount, are often misinterpreted as a call to pacifism. However, the truth is quite the opposite. Sometimes being a peacemaker requires standing against evil, including by force if necessary. As Harrison Ford said in Air Force One, "Peace is not the absence of war, but the presence of justice."
George Orwell is smirking in his grave.
Also:
needs more wings and skulls
.