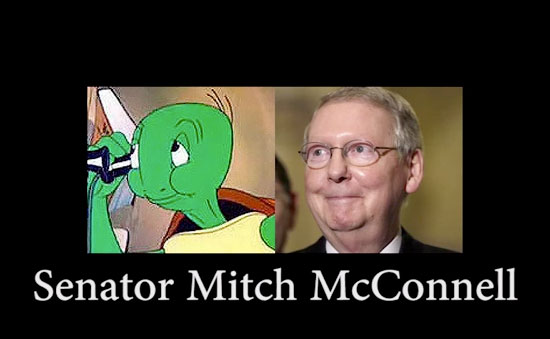 Ha ha, I'm actually jealous I didn't think of that first. McConnell's foe pulls out of the hat one of the best creations of Tex Avery, Bugs Bunny's antagonist from
Tortoise Beats Hare
, in a totally mean yet accurate comparison to the chinless senator.
This is an ignorant misuse of animation metaphors, because not only does the tortoise win in Avery's great film, he utterly
crushes
Bugs, perhaps the only time that ever happened in a classic Warner Bros. cartoon. The tortoise managed to do what Yosemite Sam, Elmer Fudd, and Marvin the Martian never could.
Like Bugs, McConnell's adversary shouldn't get too cocky; his cartoon simile may be more accurate than he bargained for.