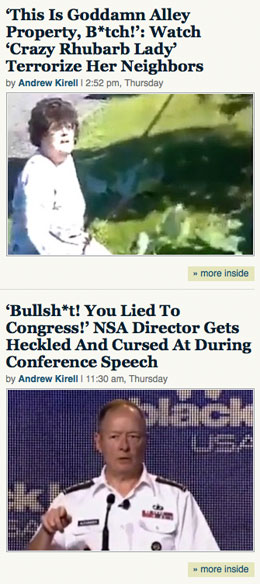 Before I begin this post, I suppose I should say hello to my young nephews, who read this blog, and I better apologize for exposing them to such TERRIBLE and RARE swear words, which I'm sure they've never heard before, like, EVER. I'm sorry I failed to protect you from the awful filthy words. They're probably rolling their eyes and saying, "That's so gay" as we speak.
Moving on! The above screenshot is from Mediaite, and I really hate how they do that cutesy "having your cake and eating it too" method of "censoring" swear words. I mean, c'mon, who exactly do they think they're protecting? All the grade-schoolers who read Mediaite?
Also, when you write "b*tch" and "bullsh*t", I can
totally
tell what words they really are! So can, I imagine, my nephews, who I'm sure read Mediaite all the
fucking
time.
It's all so disingenuous. They're having it both ways: using the dreaded naughty vulgarisms while simultaneously pretending that they're censoring them.
What I'm trying to say here is that Mediaite is a bunch of
cunts
dummyheads.