YAY, YAY, YAY! It's been long enough that newcomers to this blog may wish to take a trip down
Ursula Plassnik Memory Lane
. I'll give you a couple of hours to take it all in.
Back? OK! Ursulaproduct has become so rare, that even though this is a little late (the photos were taken on July 29), I'll take what I can get. And these snaps are NO disappointment. I mean, hubba hubba and va-va-va-VOOM: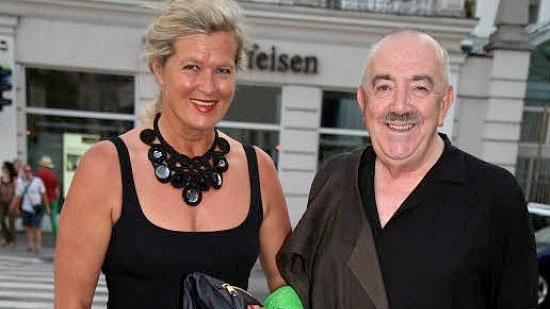 OMG Ursula cleavage! And I'm sure you'll agree that even though we love the gigantic, tablecloth-sized scarves the affable Austrian giantess sports in cooler weather, that incredible jumbo necklace more than makes up for their absence. I don't think anybody other than the mighty Plassnik could pull that off, but on her it works wonderfully.
Google translate is imperfect, of course, but the gist of the short article is that being out of the spotlight seems to agree with Ursula, and that is obviously true. Lookin' good, girl! It turns out that she's now Austria's ambassador to France! Not a bad gig, I'm thinking, and probably not a particularly strenuous one.
We've seen Ursula with that gnomish guy before, and even though he isn't as handsome as she is, he always looks kindly and charming in photos, so I have no problem with that. I'm sure he gives her all the worship and attention she deserves. Plus: WTF is he wearing? It's magical.
Hooray for Ursula! OMG!
Thanks a bunch to Pony Pal™ Tim for the excellent tip!