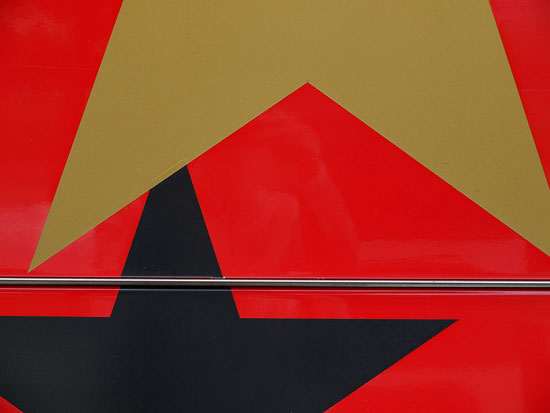 (Click for bigger.)
Yesterday I posted a photograph of a vendor cart hot dog which, whoops, I had already photographed before. Today I'm posting a photograph of a tour bus I've photographed before, but this time it isn't a whoops.
See, the two series have kind of switched places. I initially meant the hot dog pictures to be kind of arty, but as the series progressed, I found that I was really only interested in documenting the various paintings of hot dogs, without letting my aesthetic sense get too much in the way. So the
first version
of yesterday's hot dog was actually a better photograph, but the
second version
is a better document of the painting.
When I started the Ugly Tour Bus project, I was first interested in simply documenting the myriad hideous designs emblazoned on their sides, but eventually my artier side started to take over, and the photographs morphed into more of an attempt to "make a silk purse out of a sow's ear," and to make beautiful photographs using the ugly designs as raw material. With each new photograph, I got increasingly strict with the compositions. As the arrangements got more and more minimalistic, each element took on a greater importance, and finally I got to the point where I could no longer tolerate things like crooked lines and imperfect horizontals or verticals.
So in the
first version
of this bus, I didn't mind that the line between the panels was askew, but now I look at it and it bugs me, so I was really happy to tighten up the shot in today's photo.
So anyway, yes, I really do think about these things this way. I'm like this
all the time!
Sorry about that.