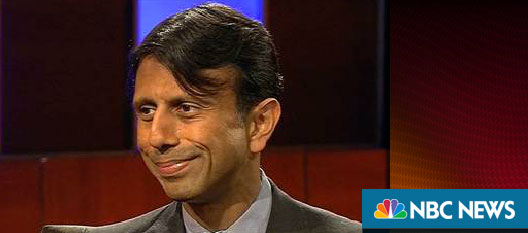 So Bobby Jindal said
some funny/stupid things
today:
"Bottom line, at the end of the day, we want our kids to be exposed to the best facts. Let's teach them about the big bang theory, let's teach them about evolution, let's teach them — I've got no problem if a school board, a local school board, says we want to teach our kids about creationism, that people, some people, have these beliefs as well, let's teach them about 'intelligent design.'"
First of all, please note that he used the forbidden "ATEOTD" phrase, which alone is enough to banish him permanently to the land of wind and ghosts. But what's funny is that the "intelligent design" folks will wince at this, because they're always trying to claim that "ID" isn't just creationism in new clothes, and here's Jindal totally equating them, switching back and forth between the two terms, out loud, to reporters. Oops!
But! This being Princess Sparkle Pony, can we please talk about Bobby's hair instead? Actually, this becomes somewhat delicate, because, honestly, we have to discuss Bobby Jindal's appearance in general. This is where it becomes an advantage for this blog to proudly don its "the whole point of this website is to be shallow" pants and proclaim the following: Bobby Jindal is a blatantly unattractive man, and this will be a big problem for him, bigger than his silly creationism gaffes and whatnot.
Many point out, truthfully, that women in politics are judged more harshly than men on their appearance. I'm certainly not going to argue that point. But Jindal is, to be blunt, ugly by our current standards*
and
has bad hair,
and
dresses badly,
and
does not have a beautiful or melodious voice,
and
has a creepy, tight-lipped smile,
and
has absolutely no charisma whatsoever.
Any one of these things can be absorbed by a male politician. But all of them? Well, OK, Nixon. But that was decades ago.
So I'm going to go ahead and be the
absolute dick
who says that Bobby Jindal is simply too weird looking to have any real future in national electoral politics.
*Hey, don't look at me! I didn't set the standards!