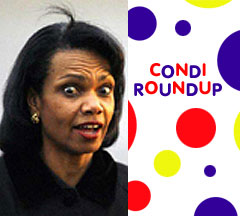 Condiproduct alert! Here's some great news: Henry Holt just gave Dr. Ferragamo a wheelbarrow full of money to write a new book! It'll be about democracy 'n' such, "at home and abroad," as the press release says, so... sounds boring? Yes, it sounds
very
boring.People want biography from Condi, not political science.
But! That's not the way the delightfully-named Husna Haq
at the Christian Science Monitor
sees it. "You know what that means," she teases. "Rumors are already building that Rice may run in 2016, with her forthcoming book as her ticket back on the national stage." Uhhh... no, Ms. Haq (I LOVE THAT), rumors are not already building; they're just starting, and you're starting them! And for that I am, after all, thankful.
Haq continues: "Does this book mean Condi's running in 2016? Of course, it's a little too soon to tell, and the former secretary of state has repeatedly said she's not interested. Nonetheless, it does open the door for speculation."
Yes it does. Speculation from Haqs, at least.