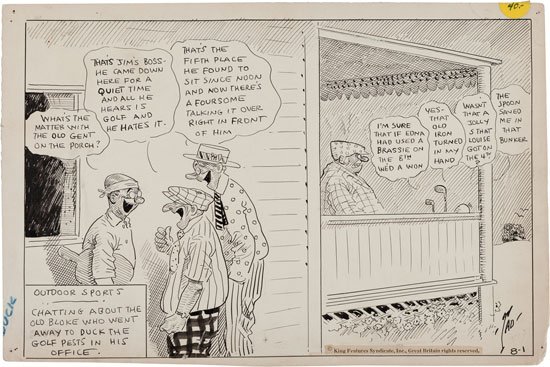 (Click for bigger. Photo: Heritage Auctions)
I've added another original drawing by Thomas "TAD" Dorgan to my collection. The specs on this one are identical to the others I've posted. And also like many of the others I've posted, I'm unsure of the date, but the relatively bucolic setting make me think this one is from Dorgan's post-urban period in the 1920s.
I don't have much to say about this one; it's a great drawing, of course, showing a good range of Tad's skill with the pen and brush, his able use of perspective, and the way he often splits his panels into two zones of activity. This one also shows the artist's wonderful guffawing faces and attention to wardrobe details.
And, again, it's not a "hilarious" gag, but more of an amusing slice of life, the kind Tad was so good at spotting. This was his most influential legacy, a type of experience-based humor which many other cartoonists ran with in imitation of his approach. Here are some details: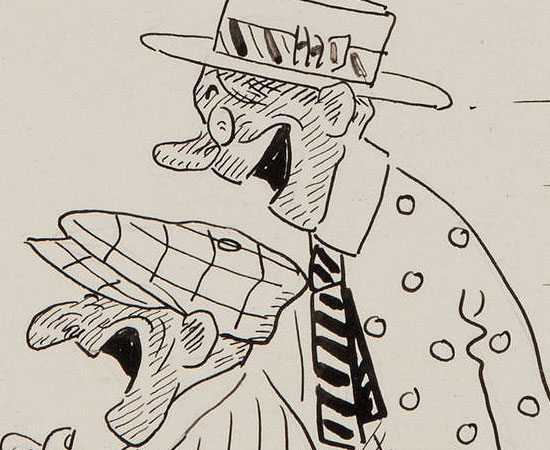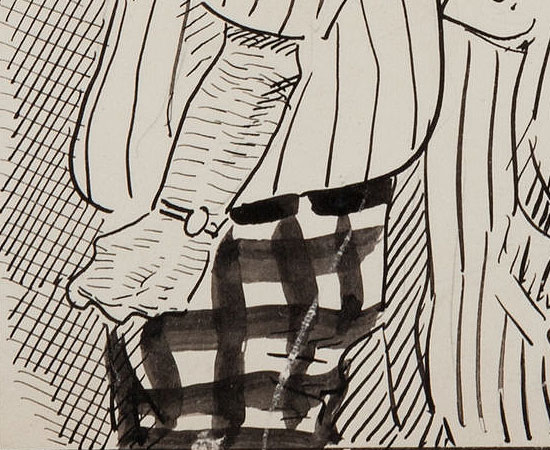 Next up is an interesting piece of ephemera which really demonstrates Tad's lingering influence. Below is a promotional piece on card stock, printed on the back of some kind of score card given away by the Chicago Herald-American (it measures 6.25" x 11.25"):
(Click for bigger)
Jimmy Hatlo's "
They'll Do It Every Time
" was the most obvious... well, rip-off of Tad's work, both in style and content. Here you can see that his comic panel is being explicitly marketed as "The Successor to TAD". But what's really noteworthy about this item is that it was made in 1940, a full 11 years after Tad's death. That's a real testament to how popular Dorgan was, even if his work is obscure today.
Other examples of cartoonists who followed in Tad's wake are
Al Fagaly
(his "There Outta Be A Law" was basically a clone of "It Happens Every Time"), J. R. Williams (I have an original "
Out Our Way
" drawing which I'll post soon), and
Gene Ahern
, whose "Our Boarding House" started as a rural version of "Indoor Sports."