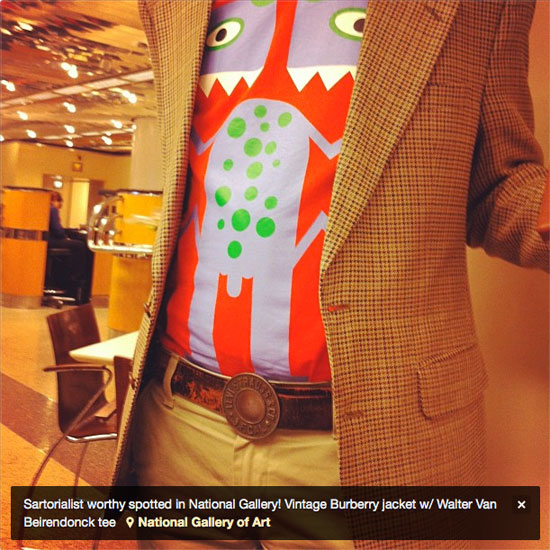 Just as I was leaving the cafeteria at work today, two delightful women stopped me and asked, basically, "Gurrrl,
WHAT
are you wearing?" and then insisted on
documenting
my questionable fashion choices, no doubt alarmed to encounter a DC area man not clad in pleated Dockers and a navy blue blazer. For the record, here's what I sported today:
Vintage wool Burberry hounds-tooth sport coat, circa late 60s.
Walter Van Beirendonck cotton long-sleeved monster graphic "Skin King" t-shirt.
Vintage Levi's belt buckle on ancient distressed (not fake distressed) black leather belt.
Tan Levi's 511 slacks.
Vintage dark green Perma-Prest button-down shirt (not visible).
Green and black Alexander McQueen Puma high-tops (not visible).
Ridiculous. Also not visible, I've been growing out my beard, just for fun and because I've never done it before, and it's getting lonnnng and wavy and scary and my mother will HATE it.
Thank you for the kind words, Jean! I enjoyed meeting you and your friend (whose name, regrettably, I forget). Check out Jean's website
here
.