(Click either overall image for bigger!)
Both of these pen, brush, and ink drawings are on boards measuring 6.5" x 22", and were published just two days apart from each other on June 26 and 28, 1947, and both are reprinted in Fantagraphics' wonderful new
Nancy Likes Christmas collection
, which features the complete dailies from 1946-1948 (more on that below). The one above also has a "rough draft" of an unused punchline written in pencil above the final panel: "He opens at Carnegie Hall next week," which would have been funnier. (By the way, neither of these are folded in the center; they just look that way because of how I scanned them.)

I mentioned
previously
that in the mid 40s, Bushmiller was still doing "theme of the week" strips revolving around a common activity or character. These two strips are from a week which featured an unnamed character, the "new brainy girl" who would never be seen again, and it's no wonder, because she is a true grotesque: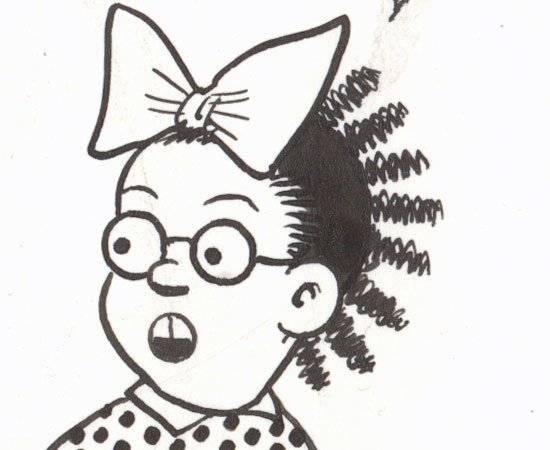 The content of these strips is a bit of a bummer: smart girls are ugly, pretentious, and unsuitable girlfriend material (as Sluggo discovers to his detriment). In the beginning of the week, Nancy gives the girl a chance, but then quickly tires of her insufferable ways (she physically assaults her twice!).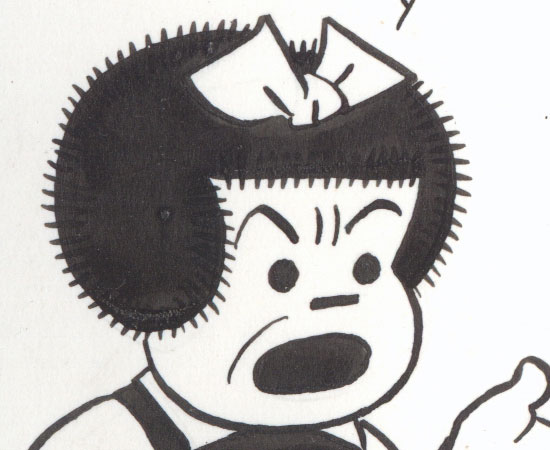 (Above: note how far into the hairdo the artist begins (ends?) Nancy's "hair spikes".)
These strips brilliantly demonstrate Bushmiller in transition: the June 26 strip is fairly cluttered, but the June 28 one is quite a bit simpler, and the use of the fence for the "reveal" in the final panel gives a clear indication of the artist's strategies to come (nobody used fences as persistently or as cleverly as Bushmiller).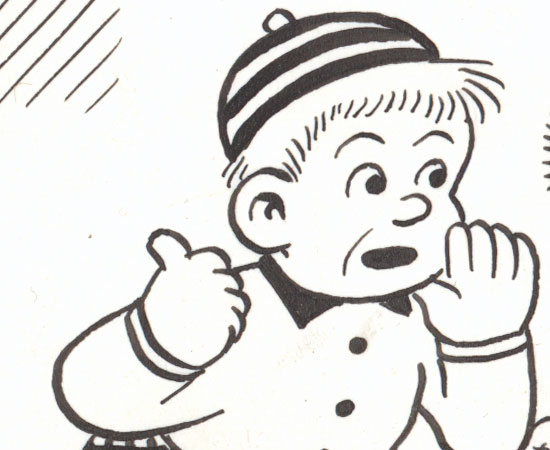 Technically, these drawings are incredibly sure-handed. Pencil lines, if there are any, are not visible. There is no white paint on either of these, but plenty of scraping where the cartoonist adjusted contours and executed minor, obsessive corrections.
As I mentioned above, both of these (along with the rest of "new brainy girl" week) are reprinted in
Nancy Likes Christmas
, Fantagraphics' second volume of Nancy dailies. If you hesitated to buy the first volume (which covers 1943-45) because Bushmiller hadn't yet hit his stride in the early forties, don't let that stop you from picking up this one. Design quibbles aside (Why, I wonder, does this new book not say "complete dailies 1946-48" anywhere on the cover? Who concluded that yellow type on a white background was legible? Do the endpapers really have to be so ugly?), these years show Bushmiller progressing from "very good" to "absolutely great" as he began to cast off the "theme of the week" approach and gradually settled into the "disconnected gag of the day" formula which served him so well. The strips are funnier, more surprising, there are fewer dated references to contemporary news events, and the compositions become increasingly strict and ingenious as the artist learned more and more how to lead the eye.The next volumes will be KILLER. I can't wait.
Order it today!