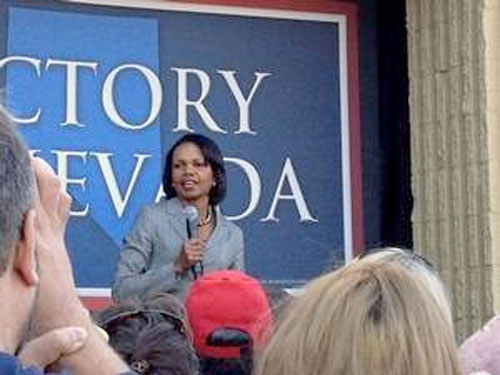 Condoleezza Rice speaks at a rally today in Reno for Republican presidential nominee Mitt Romney. An estimated 500 people appeared at the rally. / Jaclyn O'Malley/RGj
Condi (or, more likely, the Disneytronic Condibot)
stumped for Romney
in Reno yesterday, and it sounds like it was the normal Condistuff, with the exception of her new trope about how the Republican Party is totally not anti-women, because look at me! "Well, I am one," America's Princess Diplomat declared to startled onlookers, "and there isn't any war on women."
Thanks for clearing that up, Condi! She also offered her hard-hitting philosophy:
Rice also repeated a phrase she has used on the Republican campaign trail: It doesn't matter where you came from, but where you're going.
Condi, if Stanford goes sour, obviously has a bright future ahead of her in the greeting card industry.
Also, Condi: no matter where you go,
there you are.