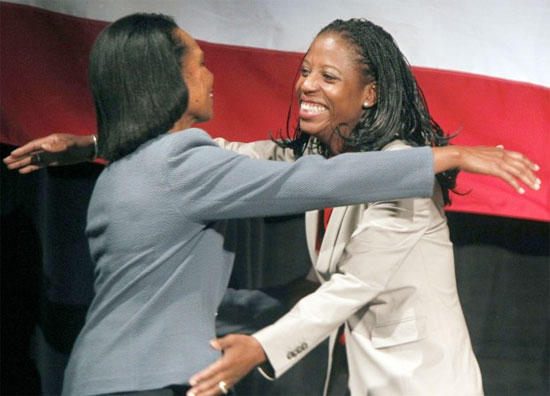 Former Secretary of State Condoleezza Rice , left, hugs 4th District Congressional candidate Mia Love at Thanksgiving Point Friday September 7. Al Hartmann | The Salt Lake Tribune.
If you haven't read the New York Times'
crazy new story
about how the Bush administration was repeatedly,
strenuously
warned of a potential terror attack in the months leading up to 9-11, much more than even the "Bin Laden poised to strike the US" memo that we already knew about, then I'm going to sit here for a few minutes until you do. It's short and... sour. Go ahead, I'll wait.
Yes, Kurt Eichenwald's story is a doozy, portraying the Bush folks as totally unwilling to hear about any threats not coming from Iraq. The blame seems to be pointed especially at the neocons running the Pentagon at the time. Fair enough.
What blows my mind, however, is that once again Condi gets off scot-free. She isn't even mentioned in the article.
She was national security adviser at the time!
If anybody deserves to be named 'n' shamed in this story, it's Dr. Ferragamo.
But no, it is apparently still considered to be churlish and unfair to point out Condi's disastrous failings at her penultimate Bush administration job. It simply doesn't fit into the "rise to the top" Condinarrative people find so appealing. I suppose a story about an unlikely person who rises step-by-step to the top of her field is just a much more heart-warming tale than the sad truth of one of the most dramatic victims of the Peter Principle in modern times, flopping her way ever upwards on a jet stream of incompetence.
And that's why Condoleezza Rice is still the GOP's favorite "foreign policy expert." It is amazing.