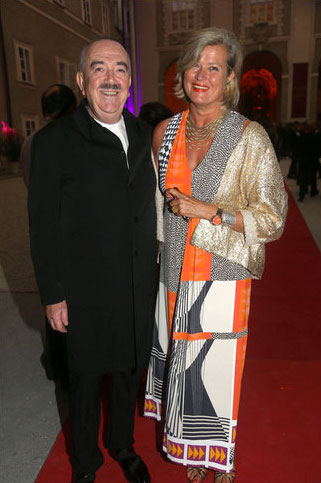 How long has it been? HOW LONG? It has been over a year, in fact, since we last enjoyed a sighting of our favorite affable giantess, the goddess Ursula! I must say, that incredible dress was worth the wait! Of all the nutty outfits and epic scarves I've seen draped over La Plassnik's formidable frame, this is her most exciting and bewildering ensemble EVER. Yay! On any other person in the entire universe, that dress/jacket combo would look ludicrous, but on Ursula, the fun-sized Auntie Mame of Austrian diplomacy? MAGIC.
I'm afraid I must politely refrain from saying anything about her taste in men. He looks like a very nice man.
The photo was taken at some... thing on September 1 which involved "Glanz und Glamour," so naturally Ursula was invited. Be sure to look at the slide show for the event, because there are many noteworthy fashion triumphs/catastrophes present!
Ahhhhhh. Was that good for you, too?